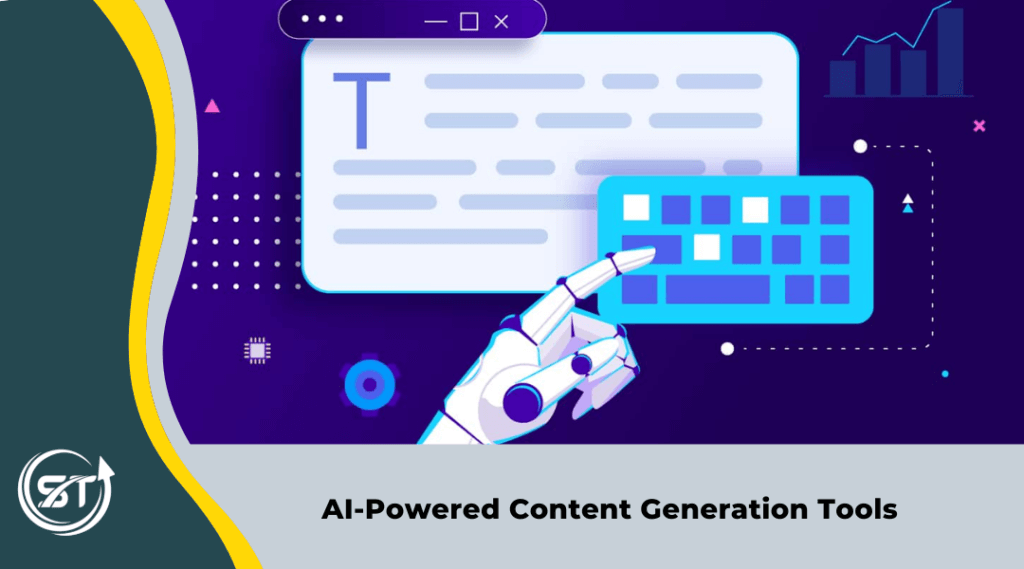 Content creation is a key strategy for digital marketing. Whether creating compelling visual content, writing an effective blog post, or persuasive social media ads, there's no better way to build trust with your audience than by providing valuable and relevant information.
Search Engine Marketing Experts say the content provides the foundation for all of your marketing activities by addressing the needs of your customers and prospects. Not only does content attract customers to your website and help people find you, but it also makes it easier for them to share what they learned with their friends and colleagues via social media or email, which leads to more website traffic and sales.
Search engines like Google, Yahoo, and Bing prioritize quality content. But to get all the attention, we must create compelling content as content creation has become increasingly complex. No one can create perfect content, but what if we use some help in creating quality content in a short time? We can use various AI content generator tools to help in generating unique, relevant, engaging, and authentic content in just minutes. But before we see AI generator tools, we must understand how AI creates content.
What is GPT-3?
GPT-3 is an open-source language model created by OpenAI, an artificial intelligence research laboratory. It stands for Generative Pre-trained Transformer 3 and uses artificial intelligence (AI) techniques to produce new text descriptions that look like human dialogue. It is a new tool that uses artificial intelligence to translate written input accurately. It can be used by anyone who needs help translating. The best thing is that it's easy to use as it automatically translates your texts with no input required.
Need of GPT-3 in Content Creation
Content creation is a complicated and time-consuming process. To make this process fast and efficient, Google has designed GPT-3 with machine learning that can work at almost the same speed as human brains. Google's GPT-3 is a machine learning project that helps to detect low-quality content in search results.
The GPT-3 is a new approach to content creation and marketing. It provides a different way to look at your audience by targeting them in their language and engaging with them directly on their platform of choice, like social media. With this in play, you can improve your customer relationships and increase your sales funnel and growth. To achieve a high level of audience engagement, you must make your content as valuable and captivating as possible. GPT- 3 helps you understand the meaning of words and make sentences and paragraphs by leading to improvement in your reading, writing skills, and pronunciation.
AI Content Creation Tools
Copy AI
Copy.ai is a content generation software tool that makes it easy to write better, fast, and more efficiently to create high-quality content. It offers templates across various content types, such as blogs, ads, sales, and more. The Copy AI content generator software can help you eliminate writer's block and create long-form content for your blog, social media posts, and articles. This tool uses GPT-3 technology to generate its copy in just 2 minutes.
Features of the Copy.ai writing tool
It has a free and paid unlimited plan. The paid plan is very cheap.
It comes in 25 languages
It has a long-form editor and allows unlimited projects.
No limit to the number of times you can generate text
100 free content creations for the first month
It has many tools, such as a verb booster, grammar checker, and sentence simplifier.
Rytr
Rytr is a simple yet powerful tool that allows you to create amazing content in minutes. Whether it's an engaging blog post or compelling copy for your product descriptions, Rytr has templates for all of your needs. Rytr's Generative Pre-Trained Transformer 3 (GPT-3) technology generates unique, original content in minutes. With Rytr, you can quickly get started on your next blog post or optimize your existing article content by adding more new elements, such as images, links, and quotes. The tool has over 30 templates for marketing copy, blogs, and product descriptions.
Features of the Rytr ai writing tool
Rytr has over 30 use cases and templates to choose from: Emails, Facebook ads, Copywriting formulas such as AIDA and PAS, Product descriptions, Blog article ideas, and Blog outlines.
Its free plan allows you to generate 10,000 characters per month.
It also has cheap paid plans.
It checks your content for plagiarism checker and grammar mistakes.
It supports 30 languages, including Hindi, Spanish, French, and German.
Jasper
Jasper AI is a content generator tool that generates high-quality content and helps you save time and resources when creating blog posts or other forms of content. This tool only writes full articles with input but guides you through creating better content by offering suggestions and editing your draft as needed.
Features of the Jasper ai writing tool
It offers a 5-Day Free Trial + FREE 10,000 words credit.
It has over 50 copywriting templates to choose from, along with an Art feature for AI image generation.
It is an excellent tool for long-form content.
It offers 99% unique, plagiarism-free content.
It also provides 25 languages support.
Simplified
Simplified AI is a platform that offers you everything you need to grow your business, like content rewriter tools, graphic design software, video editors, and social media scheduling. It's the perfect tool for small businesses looking to save money on content creation and find the right words to reach their audience. You can also use our chrome extension to create original high-quality content optimized for search engines.
Features of the Simplified ai writing tool
It has 20 language support systems.
It is a Free AI writer; no credit card is needed.
It has various free templates to create high-quality content.
It has an AI text-to-image generator to create unique images.
AI Writer
AI Writer provides an easy-to-use, cost-effective and scalable solution to generate content on a large scale. AI Writer uses state-of-the-art AI writing models to create engaging, high-quality written material with minimal input. The tool offers services like content writing and blog writing to help businesses in various industries create high-quality content effortlessly while saving time and money.
Features of the AI Writer writing tool
It has a free trial and paid plans for users.
It offers a 1-week free trial plan.
It is beneficial in rewriting an SEO-friendly article with original quality content.
WriteSonic
WriteSonic is a powerful AI-based writing tool that utilizes templates to create high-quality ad copy, blog posts, product descriptions, and landing page content in minutes. It allows users to use simple templates, prompting them with titles, headlines, and paragraphs. It is the perfect solution for writers who need help finding new ideas or creating fresh content. With its templates and an easy interface, the business can provide content that drives leads, builds trust, and converts sales.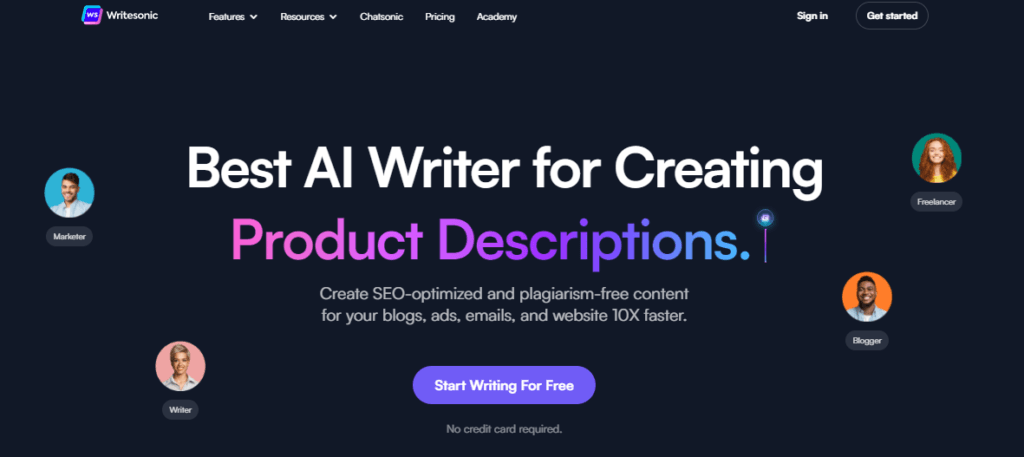 The features of the WriteSonic writing tool
It is affordable and has excellent customer service.
It provides a variety of content and is free of plagiarism.
It helps in generating headings and subheadings and creates calls to action.
It has a free and paid version.
It supports over 24 languages.
Hyperwrite
Hyperwrite is a tool that makes it easy to generate high-quality content. Your content is free of grammatical errors and as close to human-level writing as possible. The AI writing generator will use your information and turn it into a cohesive, fluid written piece.
The features of the Hyperwrite writing tool
It is free.
It has a Chrome extension.
It allows users to restructure and build out content where needed quickly.
Copysmith
Copysmith is a simple, powerful tool that makes it easy to write your content and that helps brands and businesses reach their content goals. It has 30+ templates, including Facebook Ad copy, Pitch Yourself, and Event Press Releases for creating compelling content. Whether you need to craft an effective Facebook ad or describe your business in detail, it is best.
The features of the Copysmith writing tool
It has 7-day unlimited free trial.
It can organize and store your content in folders, which you can access anywhere.
It has a Chrome extension.
QuillBot
QuillBot is a free AI writer and paraphrasing tool that allows you to rewrite content like articles, essays, and other text types in seconds. The software also provides grammatical suggestions and spell checks and helps users prevent plagiarism while writing their articles.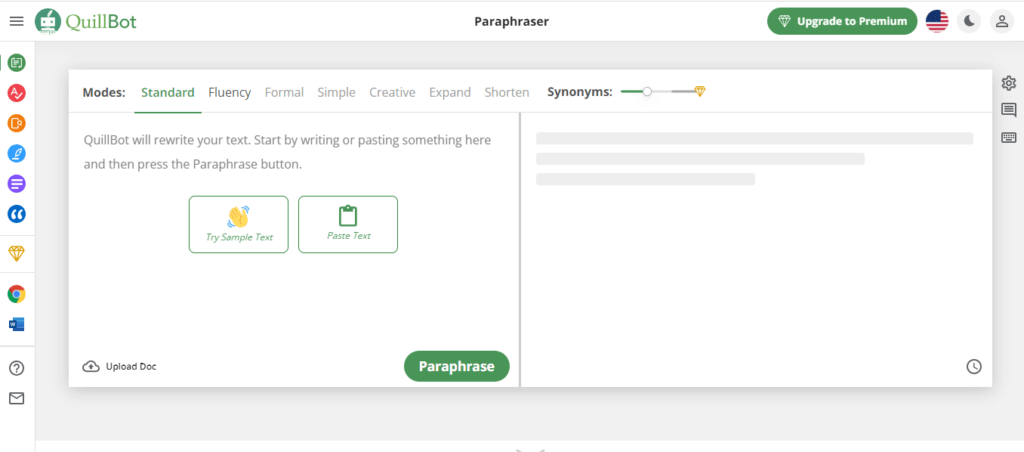 The features of the QuillBot writing tool
It has a flexible pricing model.
It provides excellent output.
It has a Citation Generator
It has Chrome extension and Word extension
Wrapping Up
Digital marketing consulting services provider says it comes down to your needs and preferences in using AI for content creation. If you are still deciding which one to use and want to save time and money, consider one of the tools on this list, as each tool has unique features and benefits that can help you create high-quality content.
Also read: Schema for WordPress: Website Development Services