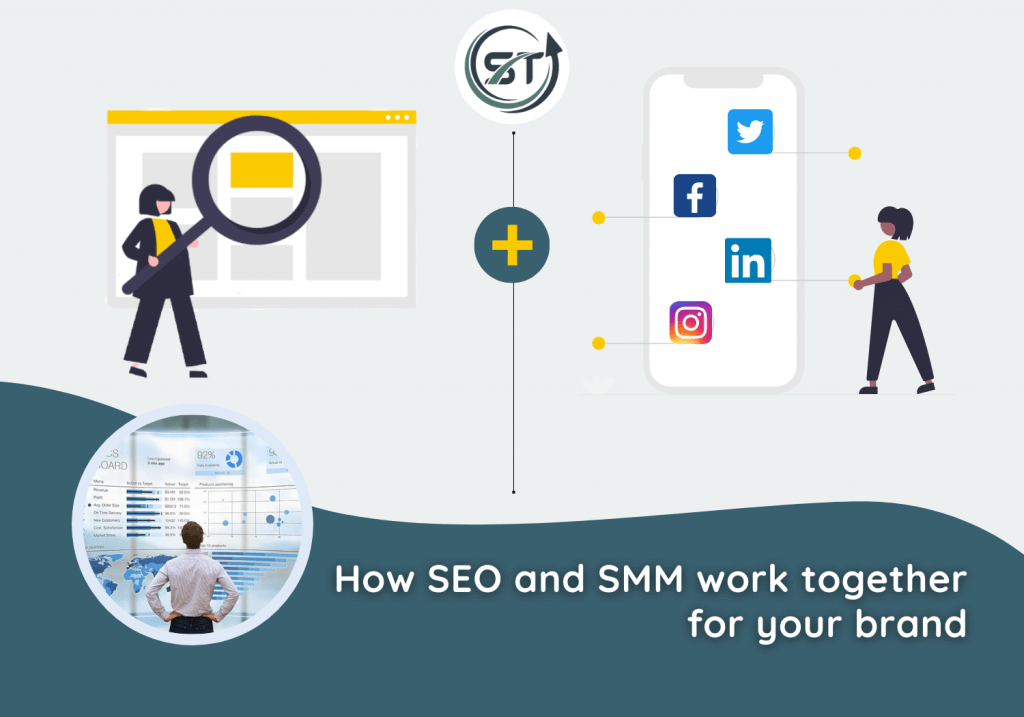 Business owners' new to digital marketing are often in dilemma about the type of digital marketing service they should prefer. Search Engine Marketing Agencies have a catalog of services, which helps the owners to groom their business digitally and create a digital footprint. Search Engine Optimization Consultant (SEO Consultant) and Social Media Marketing Consultant (SMM Consultant), both offer unique and distinct sets of digital services respectively, to support different businesses for promoting their brands and delivering results digitally.
SEO is a mechanism that improves website visibility by targeting the right keywords, website optimization, content optimization and creating backlinks, etc. whereas, SMM refers to sharing exciting, creative, value-added content on the social network to create brand awareness, to have friendly interactions with followers, lead sales, and acquiring new customers. Both SEO and SMM helps the website in many ways, some of which are:
1.        Content promotion
Social media is an excellent platform with large audiences to share and promote the website content, such as a blog or any other content linking back to the website. Although these links are different from the search engine results and do not affect the result, they still influence the SEO matrices like time spent on page and bounce rate. Social media allows the website to create high-quality content. When shared, the audiences are encouraged to click the website and spend time reading the content, which boosts the engagement on social media account by helping in the brand establishment.   
2.        Backlinks
In SEO, backlinks or inbound links are essential as they influence the ranking factor in most search engines, as more the backlinks on a high authority website, the better will be the ranking. Although social media links do not affect the SEO but still over a period of time, when quality content is continuously shared, the audiences find it valuable and will share with their network, increasing the reach, visibility, and link back to the website.
3.        Brand awareness
Social media helps increase brand awareness, which improves SEO. It is important for any brand to maintain its reputation by posting content consistently, increasing engagement, and creating a brand presence. When audiences become familiar with the brand and services offered, then searches will be related to brand name, driving traffic to the website and boosting ranking in search engine results.
4.        Targeted customers
Social media platforms are a great way to learn about the targeted audience, which helps in SEO. Social media is a medium that allows interaction with the targeted audiences about the post, questions they have, their interest in brand services, and comments that help the brand. Social media is a good place to gather information, keywords, engagement, latest trend, which helps SEO and increase website traffic.
SEO and SMM, when collaborated, give good results that boost the website and improve the ranking. For every website, there must be icons linking to the website's social media profile and a button that allows sharing the page by the readers on their social media page. It is also essential that every social media account with a website profile contain a website link in the "about" section, which will help the users navigate. SEO will be beneficial if the social media accounts are continuously updated with the latest information about the brand or website in the form of content, images, and videos consisting of keyword will help search engine make the connection between the website and social profile.
Wrapping Up
Digital marketing consulting services offered by SEO and SMM consultants, work towards brand building, brand recognition, value add to the business portfolio for their respective clients to ensure building an eco-system that is digitally resilient and economically vibrant for the businesses.
Also read: 10 Keyword Research Tools for SEO