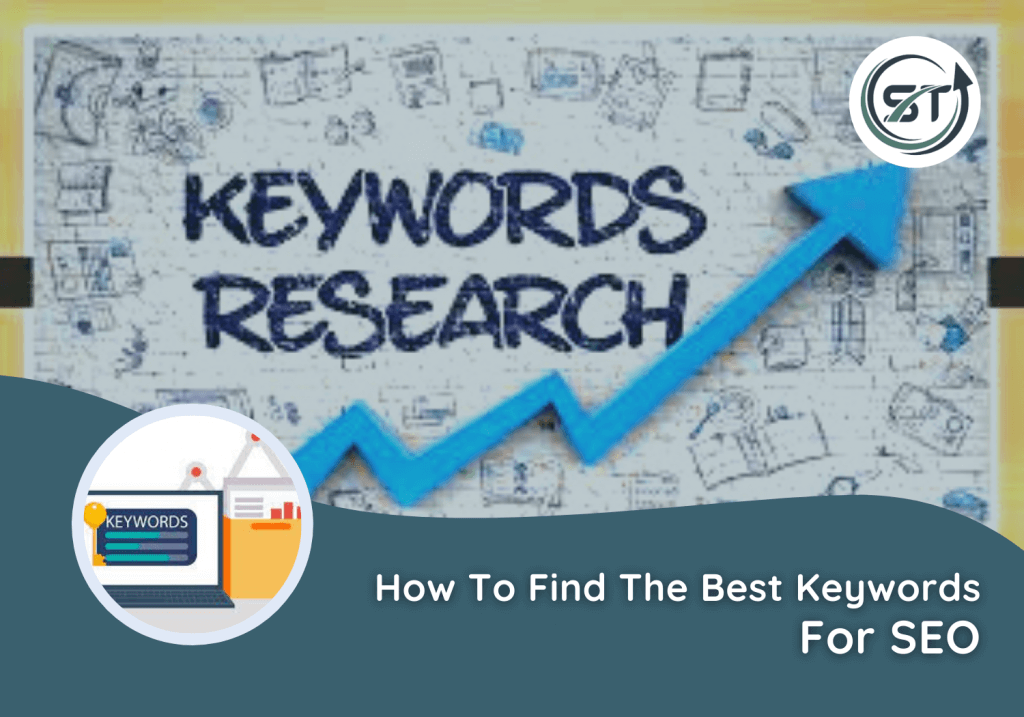 Nowadays, for a successful business, it's imperative to have a good digital marketing strategy by combining all digital channels to gain maximum benefit. The use of search engines, websites, social media, etc., are part of digital marketing services through which companies perform a lot of business transactions. Search Engine Optimization (SEO) is one of the extensive digital services that endorses website existence by enhancing the user's experience. "Keyword" is one of an integral part of SEO that helps in the optimization of the website. For any successful SEO or marketing activity, it's essential to know about keyword and their necessity.
Keyword research and its importance
Keyword research is a mechanism of discovering popular search terms that people use in Google or search engines. The search term that people use can be called a guide or a list that helps in keyword generation. A keyword can be composed of one, two, or many words. For example: "best digital marketing services".
The keyword is significant as it affects every SEO activity such as on-page, link building, content, blogs, etc. Keywords help answer questions like traffic, ranking, type of content, and people's search preferences.
How to find keyword ideas
For any business, it's important to know how customers are searching for your website or services. There are many ways through which keyword research can be done some of them are as follows:
Seed Keyword
All keyword tool requires an initial or seed keyword, which is further used to create a large list of suggested keywords. In the keyword research process, seed keywords are known as the backbone. It helps in finding the niche market and assist in recognizing the competitors. If any company has a product and wants to promote it online, it is not difficult to come up with the first keyword. Simply consider what individuals type into Google to discover what is offered. For example, if you are in the digital marketing business, and within digital marketing, there are multiple areas of expertise so that the initial keywords might be linked to expertise as outlined below:
Advertising
Email marketing
SEO
Social Media
Web Development
2. Finding a niche
After determining the seed keywords, that provide the list of suggested keywords on the services or expertise offered by the company, finding a niche becomes the second step in keyword research, where you have to choose one particular service or topic. It is always best to study your niche in more detail by browsing the communities, forums, social media networks, reading the discussion, and finding the points related to your niche. Away from browsing, it's always helpful to talk with the existing customers and find out the term they use to describe your services, company, or brand and pay attention to the language they use when searching you.
3. Search intent
Search intent in technical terms means the reason behind searches that people do for a specific term. Let's say someone is searching for a pasta recipe that has a different intent than searching for home delivery of pasta or searching for history or types of pasta. Although they all talk about pasta, but with different intents. There are different types of search intent.
Informational
Navigational
Transactional
People search for answers to the questions or to learn something
The searches are related to locating a specific website
The searches related to buying something
Example: How to boil an egg
What is SEO
Mother Teresa
Direction to JFK Airport
Example: Facebook
Spotify login
MOZ beginner SEO
Government of India website
Example: Get insurance quotes
Buy LED TV online
Subscribe to Times of India
4. Finding competition
While doing keyword research, it is always a good practice to check what your competitors are doing and which keywords of theirs are getting huge traffic. Before going for keyword research, you must identify your competitors and see if your niche topic keyword can be used. Put your niche keyword and check who ranks on the front page. You can also use autosuggest queries for more relevant options. Once you identified your competitors, you can check their top pages and identify their top keywords with maximum traffic. You can study your competitors to assess more competitors, as identified by them.
5. Use of tools
Your niche and competitors will give you a good source of keywords suggestion or ideas, but it's a possibility that your competitors are still not targeting many keywords. The use of the keyword research tool will help in finding and narrowing down the keyword. There are many tools, and one of them is Google Keyword Planner, a well-known tool that is free to use and shows relevant keyword ideas.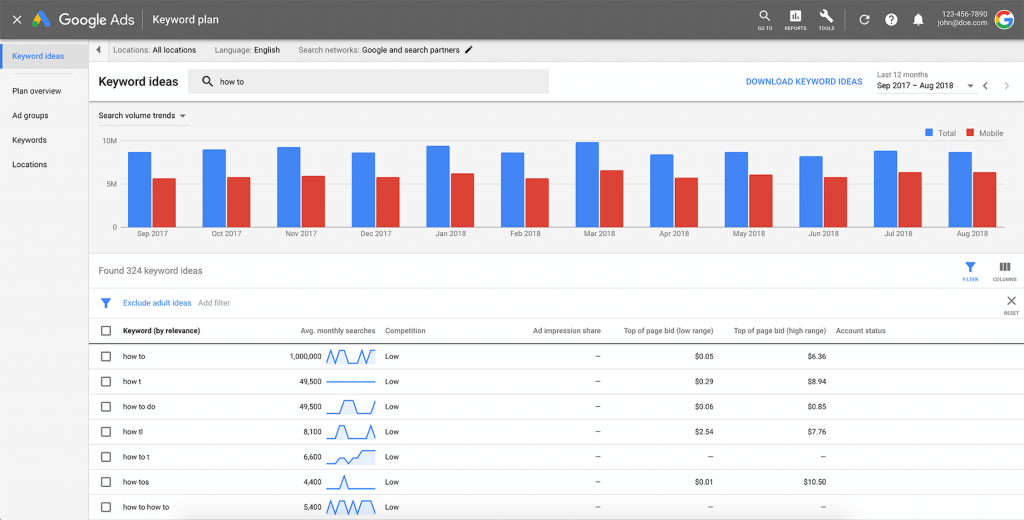 Apart from Keyword planner, there are other tools, such as Ahrefs Keyword Explorer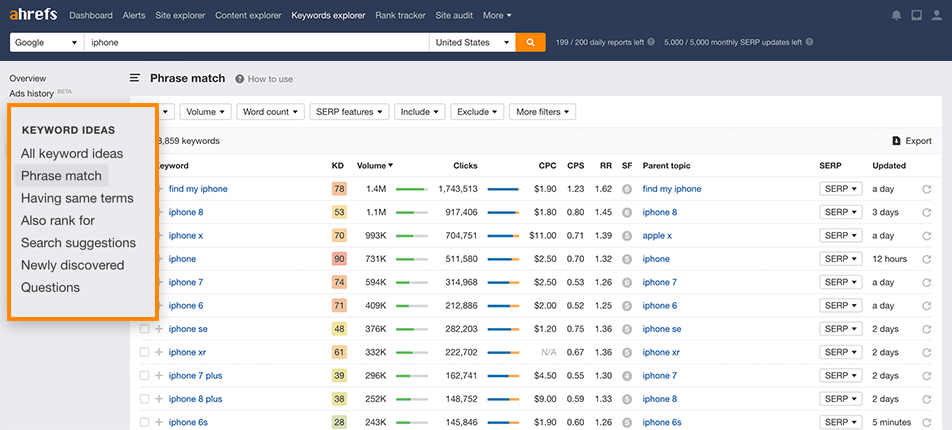 Each tool works the same way, but with minor changes. These tools filter the result and give more relevant keywords.
For a free consultation

contact us

today
How to analyze Keywords:
After accumulating ideas on finding the keywords, next process is to analyze those keyword ideas to find the best among them. In this process, you have to narrow down the ideas by using SEO metrics. These metrics are as follows:
Search volume: During keyword research, search volume helps and explains the number of times keywords are searched in a specific time frame. Search volume might increase if one person is searching for a specific term over a month. It also depends on filtering high-volume keywords where you don't want to go for 100K + monthly searches because of their competitiveness. Maybe you want to go for lower volume keywords with less competition and gain the traffic easily, like a long-tail keyword. Search volume is also affected by a location or a country, which should be considered as it may give you a new market to explore.
Clicks: Click tells the average number of monthly clicks on a keyword on a search result.
Traffic potential: It is determined by the top-ranking results of keywords in search volume. Let's say if you are in the Tea business and one of your keywords is 'ranking', then it might happen that your page will also get ranked with all related or synonyms keywords like:
What happens if you drink too much tea – 600 monthly searches
Effects of drinking too much tea- 450 monthly searches
Tea side effect-300 monthly searches
Keyword difficulty: It is also known as keyword competition or SEO difficulty, which means how difficult it is to rank a keyword. It is important to know that higher the keyword difficulty, the harder it is to rank due to competition. The keyword difficulty is calculated based on the quality and quantity of the backlink score. There are many factors that determine how easy or hard it is to rank a keyword, as listed below:
Domain Authority
Page Authority
The content length, relevance, freshness
Use of target keywords, synonyms, etc.
Cost per click (CPC): Cost per click is the price that an advertiser is willing to pay for each ad click for a keyword. CPC is more changeable than search volume as keywords in CPC changes every minute with no particular pattern whereas search volume remains mostly the same every month.
Wrapping up:
Professional search engine optimization talks about the importance of keyword research and the steps involved in identifying the same. Keywords search is an extremely important process in any digital services in a business, as it improves the value of content, generates traffic, popularizes the brand, and helps in ranking the website.
Also read: Rank Math Vs Yoast SEO