Introduction
We all love the most valuable content on our website whether be blogs or recipes or even a company portfolio and of course our eCommerce site no one wants to lose their precious set of information. But as we all know today's world is uncertain.
We have hackers watching out for random sites and looking out for gaps in your code where they can fit in their bugs and malicious content.
We know how bad WordPress plugin updates could do to your website and break things apart in seconds.
There are times when you want to move your site content back and forth while you want to keep your staging and live site in sync. There is a huge need for a backup and restore the system in all such scenarios.
The backup options used for WordPress are either too expensive or they bring a significant load on your server and not all of us could afford expensive hosting backups and security plans or high-paying plugins that don't give 100% guarantee.\
Why Choose WP Migration GURU?
Migrate your site with 0% data loss
Take backups and restore them in seconds
Automatically replace your source site URL with the destination one
Migrate your site as it is with no breaks in code
Migrate a site as large as 200 GB
No overload or break on your server so your site won't go down during migration
Easy to use with one-click migration support
It supports the most popular hosting providers
Is this plugin right for me?
This plugin is recommended for everyone whose hosting plan does not support Regular website backups or migration. If you need to instantly migrate your site across multiple hosting or if you feel like you want to keep a good grip on your data at a price starting from $89 a year only. However, if you don't prefer backups you can use this plugin only for migration for Free.
Steps for migration:
Step 1: Log in to WordPress admin and Check the plugins section. In the plugins, section click on Add new. Search for Migration Guru.

Step 2: Once installed check the sidebar where you would be able to locate Migration Guru as a menu item. When you click on that you may find a simple signup box where you just need to add your email address on which you would like to get notified once your website is migrated. You may also be expected to agree to their Terms and conditions.
Step 3: This part is your choice as you need to choose which hosting provider you are currently using and you would be asked to fill out details accordingly.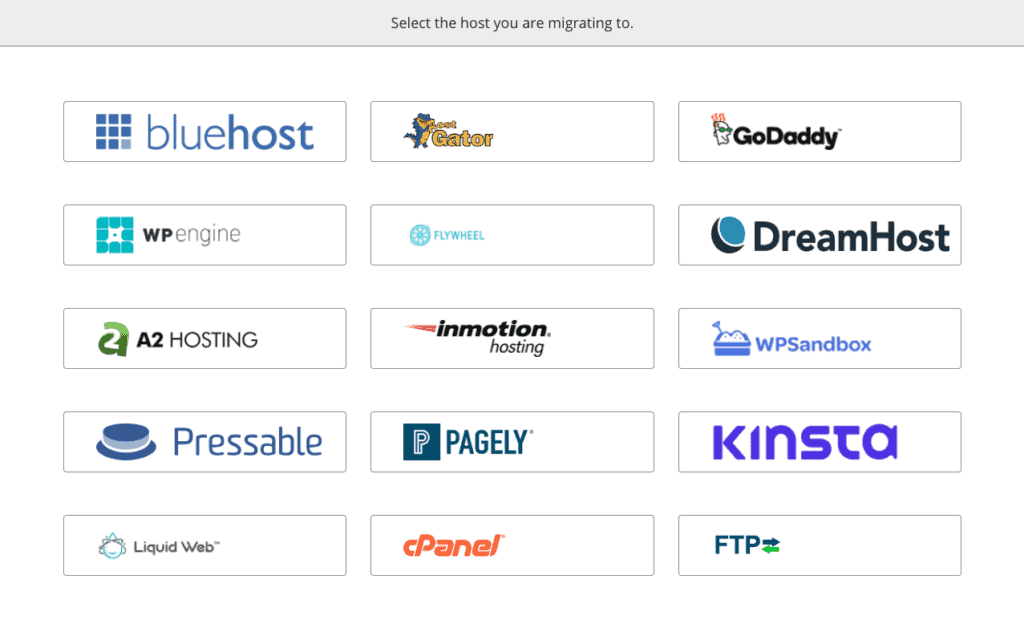 Step4: This is the most important part of this process where you may need to add the following credentials. 
IMPORTANT: The FTP details are associated with the hosting details of your destination site and not the source website.
Host IP / Host Name: This is the destination site's Hostname or Host IP address that is required. You may find it in the CPanel or your hosting dashboard. You may also need the FTP or SFTP username and password an FTP is a File Transfer Protocol that is a way to manage files that are hosted on your server and can be managed remotely from anywhere.
Protip: Use Filezilla Client to test your FTP login and website directory once you found out the login directory and files within the same you are ready you must use those credentials in this screen.
Also, make sure that you add the Source website's Admin area's login details below in the source website's settings.
Don't be afraid to check and switch over these details back and forth as it may be a possibility that your FTP may not connect on the first attempt. One last thing it would be great to install WP Migration Guru on both the source and destination sites.
Once you are done adding these details the WP Migration Guru plugin will validate all your login credentials and check if all credentials are valid once the validation is done we are good to go. So sit back and keep calm, let it do its work, and once done you will be notified on your Email Address.
You may also get an on-screen notification to check once the migration is done. You would be getting all the URLs replaced by themselves, no need to do anything else as you are good to go. The final thing is in the case of an eCommerce website please check you change the website URL wherever you have signed up for your payment merchant to receive money from the new URL instead of the old one.