Social media has become an integral part of our daily life where not only companies but an individual is also taking benefit of its various platforms. With the development of digital marketing agency services, social media has also flourished as it reaches customers and identifies their behavior with massive information shared on the web. Facebook is one such social media marketing service platform with the highest users worldwide and the best place to market products and services. Facebook marketing offers various highly targeted paid advertisements, posts and allows brands to showcase their products and services in front of massive audiences. As a social media website Facebook ads management services often rely on various tools that helps in managing the platform. Some of the tools featured in this blog are free and paid with various distinctive features are as follows:
It is a leading online management software solution provided by WordStream, allowing users to manage their Google Ads and Bing Ads. With its tools, the advertising process has become easy as it provides users to create and manage ongoing ad campaigns. With 20-minute Work Week, it helps make changes in Paid social campaigns based on a recommendation on users' account data. Some of the features of WordStream Advisor are as follows:
• It provides weekly alerts and visually stunning reports.
• It helps in managing geotargeting, keyword implementation, call tracking, conversion tracking, performance, and landing pages.
• It offers various tools for marketers like AdWords Performance Grade, which evaluates the strengths and weaknesses and suggests improvements.
This is a platform to create, manage, and optimize the advertising campaigns like Google ads, Facebook ads, and Instagram ads in one place, which saves time and money. AdEspresso is best for small and medium companies to provide assistance. Some of the features of AdEspresso are:
• It provides recommendations or tips based on existing ads.
• AdEspresso supports multiple platforms.
• It controls the timing, placements, and audiences for ads.
• AdEspresso is faster than most of the competitors in the market.
SEMrush is an Award-winning tool used by Fortune 500 companies. It is a leading online management software platform with over 50 products, tools, and add-ons, including tools for search, social media, market research, and various other content. It provides access to the world's largest database of 20 billion keywords in more than 140 countries, with 310 million ads and 17 billion URLs crawled per day. Some of the features of SEMrush are as follows:
• It is used for keyword research which includes tracking of keywords and their analysis.
• It assists in ads building, advertising, market research, and trend analysis.
• SEMrush assist in creating and optimization of social ads.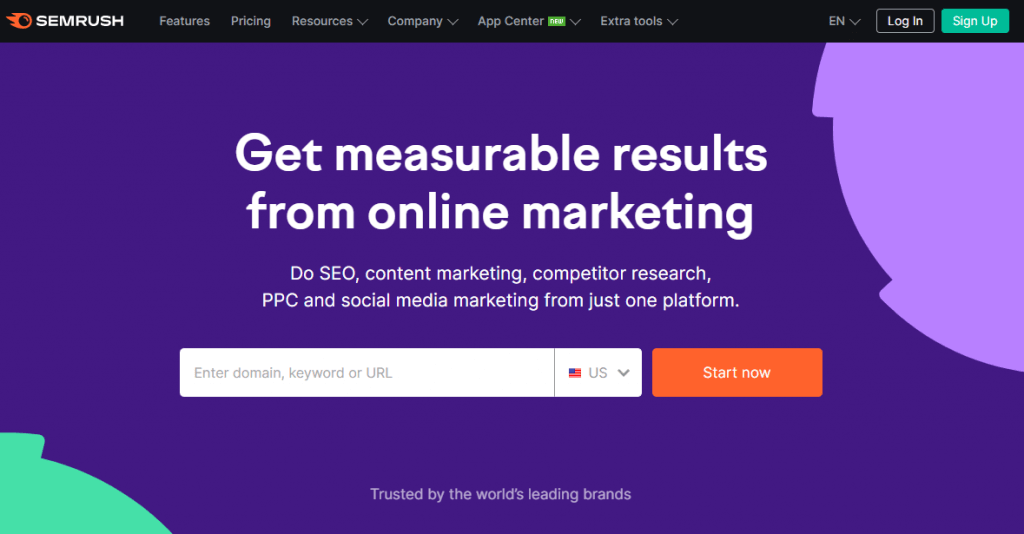 The content is everything for any website, and BuzzSumo is one such tool that provides ideas, helps create high-performing content, and monitors the performance. BuzzSumo assists in identifying the most engaging content on Facebook, Twitter, Pinterest, and Reedit; moreover, it also keeps track of trending and old content. Some of the features of BuzzSumo are:
• It keeps track of engagement such as views, likes, and comments.
• BuzzSumo provides content analysis, especially of competitors.
• It assists in advanced searches with specific phrases, domains, words, content by specific authors, and many more.
• BuzzSumo assist in finding thousands of influencers by identifying authors and creators in multiple social media website.
Want to design something beautiful, then Canva is the one. It is one of the best tool that is easy to use, and allows users to create social media graphics, posters, presentations, videos, and other useful content. Canva is the online platform that is best for small businesses, NGOs, and everyone. It has readymade templates with hundreds of photos, graphics, and stickers for Facebook, Instagram posts. Some of the features of Canva is as follows:
• Any image in Canva, whether uploaded or stock photos, can easily be drag and drop for editing.
• Canva supports various image formats such as jpg, jpeg, png, pdf, SVG, and has options for videos in mov, gif, and MP4 file format.
• Canva is available in multiple languages and stores all the designs created by the user for future references.
• Canva is not only works for desktop but is also best for mobile users through its app.
Buffer is social media management software trusted by 75000 users, including brands, businesses, individuals, to derive engagement and result in social media platforms. With Buffer, the users can manage multiple social media accounts, schedule posts, and analyze performance. Buffer has various products for publishing, engagement, analytics, and team coloration, which helps social media marketers and teams. Some of the features of Buffer are as follows:
• Buffer app is mobile-friendly that allows users to schedule content as per requirement.
• It has the facility to view RSS feeds from any or favorite blogs and easily share the content.
• Buffer had designed an image curator called Pablo, which helps select and size an image with easy text and background creation to make the image more engaging.
With over 18+ million users, Hootsuite is a widely recognized tool for social media management worldwide by small and larger businesses. It manages multiple accounts for users by building a brand, strengthening customer connections, and driving business results. Hootsuite allows users to schedule posts on social networks such as Facebook, Twitter, Instagram, LinkedIn, Pinterest, and YouTube. Some of the features of Hootsuite are:
• It helps the user in content assets from Microsoft OneDrive, Google Drive, and Dropbox accounts to publish within social media posts.
• Hootsuite keeps track of customer conversations and provides real-time insights from social media to make critical business decisions.
• With its mobile app, it manages and maintains a social presence from anywhere and at any time.
• It assists in providing expert certification, training, coaching in social marketing, social listening, and customer care.
All over the world, ManyChat is the no. 1 platform for Chat Marketing campaigns via social media and text messaging, which over thousands of businesses use. With the facility of Text and Email through ManyChat, businesses through automatic sequences can reach their customers across multiple platforms very easily. Some of the features of ManyChat are as follows:
• It has a friendly user interface with a clean dashboard with different options that are straightforward and easy to understand.
• With ManyChat in chat flow builder, it allows users to easily create and edit the chat that the bot follows while interacting with real people.
• It has various templates related to various services like restaurants, E-commerce, professional services, real estate, and many more, which provide flows and automation that can be edited as per need.
• ManyChat has a simple integration with Facebook that auto-reply to Facebook comments, post, and send messages through Facebook Messenger.
Sprout Social is a marketing management tool focused on assisting individual entrepreneurs, small businesses, niche agencies, corporations to integrate and patterned with social media platforms. Sprout Social manages all social media accounts, including content curation, publishing, reporting, and analytics. Following are the features of Sprout Social:
• Sprout Social supports integration with Twitter, Facebook, Google+, Instagram, LinkedIn, and Pinterest.
• With its smart Inbox feature, it collects all messages people send, tags, filters messages, hashtags, monitors the keyword, and many more.
• Sprout Social has several automation tools such as Bot Builder, ViralPost which help users to interact with customers effectively.
• Sprout Social has publishing tools that help publish profiles, schedule posts, edit content, and many more.
Whatagraph is one of the best tools to monitor performance with its automated and easy-to-use reporting platform. With its cross-channel reporting tool, it assists businesses in tracking, measure, and analyze marketing performance with teams and clients. Whatagraph collects data from all marketing channels and creates excellent visuals, engaging content like reports, and sharing them quickly with its automated function. Following are the Whatagraph features:
• Whatagraph has some fantastic templates which are easy to build and use.
• It helps in brand collaboration, communication, report scheduling function, and many more.
• Whatagraph integrates with a range of third-party platforms such as AdRoll, Campaign Monitor, Google Analytics, Mailchimp, and more, to gather data from multiple sources.
Wrapping Up:
As per social media marketing experts, all the mentioned tools are helpful not only for one but multiple platforms. Every tool adds something to create awareness in marketing and reaching out to the right audiences. These tools have unique features that create, present, monitor, and report the best outcome in marketing.