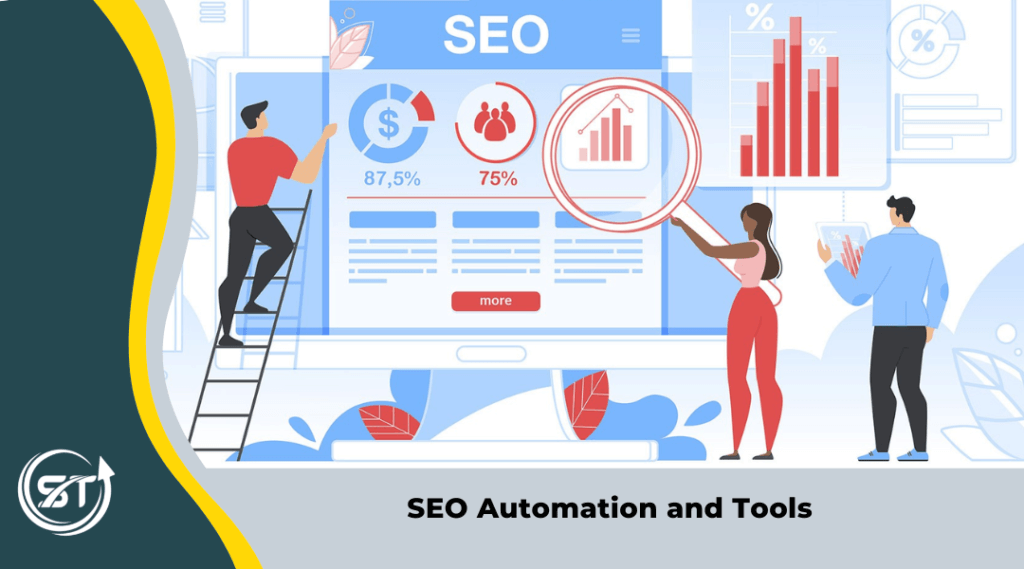 SEO is an ongoing process requiring continuous updates to your website's elements to rank higher. The most popular search engine, Google, updates its algorithm several times a year to improve the search experience. SEO service experts continuously look for the latest trends and techniques to stay ahead.
Marketers have much to consider, like staying one step ahead of consumers, meeting commercial goals, and managing digital channels. For a lot of marketers, the work always continues.
You're constantly looking for ways to grow your business and improve your marketing efforts. But it doesn't have to be this way; you can start working more intelligently as the digital market evolves; more SEO tasks will be automated with the help of software platforms and tools. With many factors impacting rankings, website traffic, social media changes, and more, marketers must consistently monitor their strategy.
What is SEO Automation?
As the name suggests, SEO automation is the process of taking repetitive or simple tasks and automating them. Automation is a significant part of business these days. If you have a small business or are just starting, it can sometimes take time to juggle all the tasks simultaneously.
SEO Automation is a fantastic productivity tool to ensure your site gets all the opportunities & stays up-to-date with the latest SEO strategies. It will analyze all website-related factors like your competitors, ranking, traffic, and many more, so you can optimize their strengths and make them irrelevant to your business. It saves time and can help you increase the quality of your website content and save money.
How Does it Work?
SEO automation is about monitoring and improving the performance of your website. To do this, you need to gather data to make informed decisions about how you move forward with SEO. The tool will check your website's performance and make suggestions about content, backlinks, and keywords. The results can be used to identify compliance issues and improve existing best practices to achieve better performance.
Elements of SEO that can be Automated
SEO is tricky, and thousands of factors go into a ranking, but one thing is certain you need to automate those parts of your SEO strategy where automation makes sense. Once you determine those parts, you can start thinking about using automation tools to track your website's performance. These tools can be used on various technical aspects of SEO, such as basic on-page, technical SEO, social media aspects, keyword rankings, competitor analysis, and more.
Rank tracking
An extensive website with numerous pages demands constant attention as it is challenging to manage. Ranking tracking tools is a way to monitor and analyze your website's SEO performance over time. The rank tracking tool lets you track your keyword rankings over time and monitors your faring URL against your competitors. Using this method, you get the information needed to make decisions regarding improving online content or redirecting less popular pages.
Website Monitoring
A website monitoring service is a valuable asset for website owners. It checks the uptime of your website, as well as its availability and performance. It is a service that monitors your website's health, structure, and performance. It will report any issues affecting your SERP position and proactively fix them. It ensures you are on top of every little detail concerning your website's visibility, such as broken links, load time, security protocols, and page structure.
Competitor Monitoring
Your competitors are always alert, so you need a solution to watch them immediately. With competitor monitoring, you can track what your competitors are doing and what is their websites' present status, as it helps gauge your niche's strengths and weaknesses and plan an appropriate way of improving your site's ranking. It also lets you compare your marketing strategy to what's working for them and lets you use their best practices to improve your own.
Backlink Analysis
Having a solid SEO strategy is essential for any business, but you need to be able to monitor how your efforts are affecting your business. Backlink analysis helps you stay on top of what impact your SEO efforts are having, so you can improve them over time.
Monitoring and analyzing backlinks can have a profound effect on your website traffic. Backlink analysis will help you understand the quality of your backlinking profile and identify spammy or low-quality link sources that could negatively impact your rankings. Having quantity and quality links pointing back to your site gives the search engine the impression that the contents on your site are valuable and can answer customers' queries. It boosts your site's domain score and ranking and helps you generate quality leads.
SEO Automation Tools
SEMrush
SEMrush is one of the most popular automation tools, allowing you to automate multiple aspects of your search engine optimization campaign. These include competitor site research, keyword research and keyword tracking, backlink analysis, content analysis, and more. With this, you can easily generate reports on an organic listing, and keyword rankings, track clicks and traffic sources, analyze competitor backlinks, and more.
With SEMrush, you can easily schedule, optimize and execute your SEO campaigns. It is one of the best SEO tools that help thousands of SEOs monitor their site rankings and track keywords' performance over time.
SE Ranking
SE Ranking is a powerful yet simple-to-use SEO tool. It provides information on a vast number of SEO factors and allows you to carry out multiple tasks at once. This comprehensive backlink analysis and rank-tracking tool can discover keywords, identify broken links, review technical SEO issues, monitor backlinks and page ranks, and perform competitive link analysis. This application also provides a wealth of data that can be used to plan your SEO campaign strategy.
Screaming Frog SEO Spider
Screaming Frog SEO Spider is a website crawler and audit valuable tool for automating various on-site checks for potential technical problems and common SEO issues. This tool will crawl your entire website, parse all the elements it finds and log them in an easy-to-read report that can be exported and used as you see fit. It provides all the SEO-related features you need to assess a website, generate a reference report, and perform link audits.
Google Search Console
Google Search Console is a free tool to help you measure your website's search traffic and performance in Google Search results. It lets you automatically identify where you appear on the page and how users navigate your site. With this, you can view your site's search analytics, get notified of crawl errors, run a site-wide search log, and check page status. It also helps you research people's queries to find your site, track performance, and see how it looks across desktop, mobile, and tablet devices. You can also get notifications for page speed suggestions, mobile usability errors, sitemap submissions, top linking pages, and so on. You get access to rich, multilingual reports that provide complete insight into how users interacted with your content, such as pages indexed, clicks, impressions, and CTR (Click Through Rate).
ContentKing
ContentKing is an all-in-one SEO automation platform for your business. It is an SEO automation platform with near real-time SEO auditing and monitoring features. It enables you to schedule SEO audits, crawl progress monitoring, and keyword ranking updates to keep your site healthy. With a focus on content marketing, ContentKing allows you to generate and track social media posts and boost them with the help of its powerful Facebook marketing tool. The platform also features a content scheduling window that allows users to plan their posts with near real-time publishing tools.
Deepcrawl
Deepcrawl is a technical SEO tool with two user-friendly offerings that allow you to conduct automated SEO tasks and run SEO tests. The platform also includes regular updates and continues improving its products' performance, keeping you up-to-date on the most effective ways to get results from your site.
It provides search data, website monitoring, and marketing intelligence by automatically crawling your entire site, including dynamic content. With a single click, it finds mistakes like canonical issues, duplicate content, and URL slugs. You get super-fast access to insights like indexability, redirect chains, and crawl errors so you can fix problems before they impact search performance.
Wrapping up
Digital marketing consulting services often says that there needs to be more than a good website to be successful. Even though you might have a good website, there are chances that customers are still looking for it. Therefore, optimizing your website and making it visible on search engines, social media, and other platforms through SEO services becomes essential. SEO automation tools make your life easier as they generate reports that can help you devise a well-planned SEO strategy, so you will know which routes are working and which are not.